Paris has a new fashion temple on the Seine – Les Docks, Cité de la Mode et du Design – between Gare d'Austerlitz and the BNF.  Another style scoop for the Left Bank's eastern waterfront.
The undulating lime green facade is hard to miss from the opposite bank.  Architects JAKOB+MACFARLANE created a diamond pattern 'Plug-Over' for the existing industrial dock building.  Goals of the state-funded project include attracting visitors besides the fashion/design tribe, and furthering the city's reputation as world fashion capital.  Outdoor space is expansive, with wooden decks on the street and roof levels.  Plenty of seating is provided for sunning, sipping drinks and surveying river traffic.
It's an ambitious 4-story complex encompassing a museum/gallery, conference & showroom space, offices, boutiques and 4 bar/restaurants. The MoonRoof quickly became a hot RDV for drinks and celebrations.  A sprawling deck surrounding the surprising vegetal roof offers spectacular river views.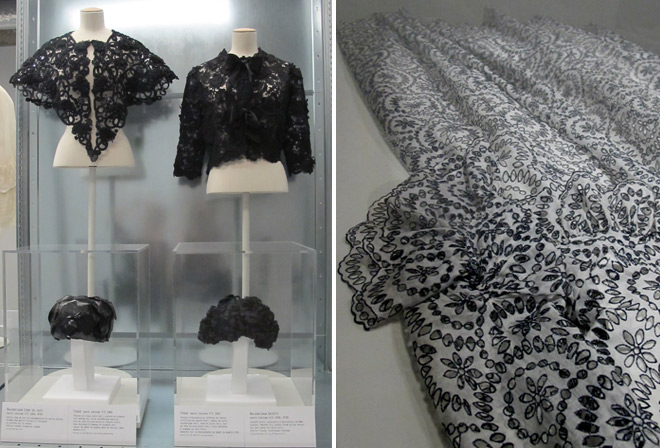 The MUSÉE GALLIERA HORS LES MURS has a duet of shows through October 7 featuring past and present couture innovators:
Cristobal Balenciaga – Collectionneur de Modes
White Drama – Rei Kawakubo for Comme des Garçons
The Balenciaga exhibit marks the 40th anniversary of the Spanish couturier's death.  It showcases 40 garments created between 1937 and 1968, alongside his private collection of 18th and 19th century fashion, costumes and accessories.   The juxtaposition demonstrates how folkloric costumes and 19th century fashion inspired his work.  The installation is a bit disconcerting – with couture pieces on mannequins above cantilevered drawer display cases.  I'd prefer seeing the gowns at ground level, visible from several vantage points.  Looking up at clothing is not a flattering angle.   One of several exquisite Balenciaga hats – a sweeping sculptural bridal model, was reprised in the 2012 Balenciaga spring-summer collection.
While the couturiers' couturier leaves you with visions of black lace mantillas, the accompanying show of Rei Kawakubo's 2012 spring-summer collection, is a blizzard of creamy white.  Mannequins are grouped by theme in plastic bubble tents.  The effect is eerily poetic.  Her runway show received glowing reviews; a moving spiritual parenthesis amid a succession of commercial collections.
Striking parallels exist between the two exhibits – sculptural form married with decorative embellishment, solid colors versus prints, gathered seaming and substantive fabrics that imbrue garments with ceremonial solemnity.
Left feeling I'd been witness to rituals conducted by a high priest and priestess of fashion.